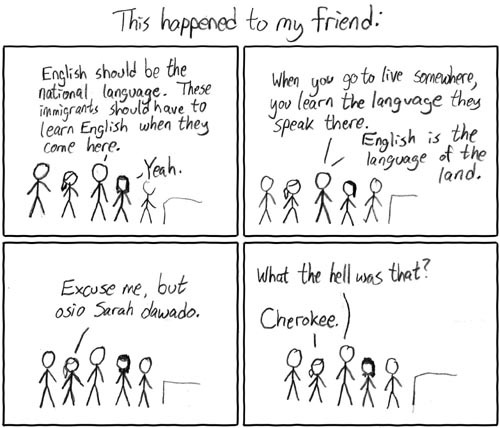 So lately I've had to think about something that hasn't gone through my mind in a long time.
Moving back to Mexico.
It's nothing serious right now, but it's to the point where my parents have seriously discussed a plan in case things go badly.
It kind of makes me nervous. I have no idea what I would do in Mexico. Seriously. It's just something that's so foreign to me now, I would definitely feel out of place.
I really don't get why I'm such a threat to so many people in this country. I pay taxes, I'm a college student, and I lead a life comparable to many Americans'. Why am I so different?
People talk about the Civil Rights era like it's something of the past, but I think it's still very much an issue. Now anti-immigrant people are using the economy issue to push for anti-immigration laws. And it's working too.
By now I have to worry about renewing (and paying for) my "license" every year (which I can't even use as a valid ID), finding a job where people won't screw me over for being an immigrant, not being eligible for any scholarships or financial aid, the possibility of having to pay out-of-state tuition, getting my degree done asap, and maybe even getting deported.
Just because I was born somewhere else (it doesn't matter that I've lived here almost 11 years now). Not because I don't pay taxes, not because I steal, not because I rape people, not because I'm in a gang, not because I killed someone (which is apparently what immigrants do). Nope. I have done nothing wrong and apparently I'm using all the things a "real" American could be using or doing.
I'm sorry, but if you lose your job to someone that can't even speak English, it's about you, not them.
That's also why I refuse to say the pledge (besides the fact that you're talking to a flag). I mean, land of the free? really?
Well enough of that. I think you get my point. If you think I deserve to be kicked out, that's alright, I still love you.
Love,
Berto
P.S. Tomorrow is the day for change. I hope for some positive change regarding this subject. Woo Obama!